My Family Footprints is a genealogy research company devoted to helping people find more information about their family history. Our goal is to use online resources and local research centers to generate an accurate interpretation of each client's family history.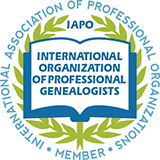 My name is Jo Zurwell, and I am the owner and lead genealogist for My Family Footprints. I found a love for the detective work that comes with researching a family tree. While digging into my own family history a few years ago I found such interesting things I never knew before. I knew I had finally figured out "what I wanted to do when I grew up," when I worked on my best friends family tree and loved every new discovery.
I look forward to helping you find the answers to the mysteries in your family tree, one footprint at a time.
For a full listing of the products and services we offer please click the button below.